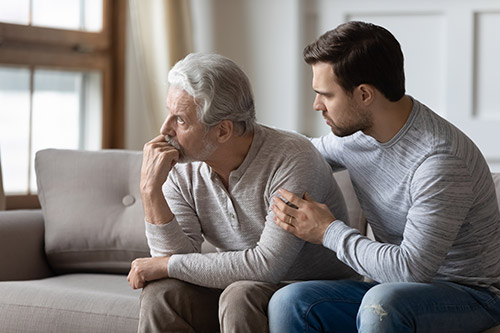 It is probably never going to feel like the right time to have "The Talk" about a memory care facility with a parent who is the caregiver of a spouse with dementia. Many adult children avoid bringing it up because it's such a complicated and sensitive topic. Here at Manor Lake Assisted Living & Memory Care (Gainesville), we've helped countless people like you prepare for this most difficult conversation whether your need is for professional assisted living care services and professional memory care services. Today, we're going to focus on those of you facing memory care needs, but much of this advice applies to transitioning to assisted living as well.
When to Get the Conversation Started
But the best time to approach this tough issue is right after the initial diagnosis. As dementia progresses, it's possible that your parent could have specialized needs that can't be met at home. Being proactive in having the talk about your parent's plan of care as the disease progresses ensures a plan is in place that allows your caregiving parent to get the support they need to provide quality care.
If your parent is the caregiver of a spouse with dementia, it may take some time to process and identify where the line is between being able to provide quality care at home versus when the support of trained, specialized care providers should be sought. Through regular conversations where you show that you're genuinely concerned about both of your parents' well-being, you can be instrumental in identifying potential future problems and instigating change.
Gather the Facts
Before you bring anything up, do your homework so you problem-solve with your parent, not dictate the solution or convince through arguments. Learn about how the disease will progress and how it could impact your parent's ability to stay at home.
The Alzheimer's Association website is a great resource for information about how to help your loved one remain as independent as possible, how behaviors change as the disease progresses, strategies caregivers can use to manage stress and how to decide which care options may be the best fit.
Research the memory care facilities in your parents' community so you can come to the table with some options that are available in your area.
Open the Lines of Communication
Test the waters before you broach the subject. Give your caregiving parent a call to see how they're doing and to get a sense for how they might react when you bring up the topic of a memory care facility. Caring for a loved one with dementia can take its toll, so say something like, "How's your health? The doctor say anything new?" If your parent responds openly, show that you're ready to be a helpful resource by saying something like, "Is there some way I can be helpful?"
Stop by for Coffee
Avoid the temptation to plan a family meeting. Family meetings can feel threatening and overbearing and more like an "intervention" than family support. Instead, have the conversation in a more natural way, such as at the kitchen table over a cup of coffee. After relaxing and enjoying each other's company for a little while, look for an opening when you can move into a more serious conversation.
Depending on your relationship with your parent, you might want to take the more direct approach by saying something like, "I noticed that you've been more tired than normal and that you were so busy last week that you forgot your own doctor's appointment. Are you getting enough time to take care of yourself?"
If your parent is more self-conscious or private, consider taking a more indirect approach by saying something like: "I read in the paper about a husband who was taking care of his wife with dementia. He got so worn out that he had a heart attack, even though he had no history of heart disease. It made me think about you taking care of Dad and how hard that can be for one person to do."
No matter which approach you take, be gentle. Talk in a calm tone of voice, offer a reassuring touch and follow your parent's cues.
Practice Your Listening Skills
Adult children can be eager to solve their parents' problems, but your parents are just as committed to maintaining a sense of control. Additionally, caregiver grief and guilt are common reactions to moving a spouse to a memory care facility. Yes, you want your parents to be safe and secure, but your parents need to feel heard, respected and valued, too.
If there is resistance or conflict, pay close attention to the feelings being expressed, and recognize and respond to the things that matter to your parent. Make sure they feel supported and understood by using reflective listening. Say something like, "I hear you saying ... but it's also worth thinking about this … "
Remind them that they won't always be able to safely take care of their spouse with dementia at home alone and that they can be a better partner if they aren't totally exhausted by all of their care needs. Find ways to be reassuring, and frame the discussion as a place where everyone's opinions can be heard.
Have Regular Conversations
It's important to understand that "The Talk" really isn't a one-time conversation. It's simply the first in a series of discussions over time. After some time passes and your parent has had a chance to think about it, look for other opportunities to raise the issue again.
If your parent shows signs of warming up to the topic, show them that you are trying to be their advocate, and offer to go with them for a tour of memory care facilities. If they say something negative, be patient, but don't give up. Connect them with a caregiver support group, which might help them come to terms with the idea that sometimes the best decision for the health and happiness of everyone is to consider moving the spouse with dementia into a memory care facility.
Remember that, ultimately, this is your parent's decision. The best thing you can do is remain positive and supportive throughout the ongoing discussions about a potential move. And remember, whether you need guidance related to senior assisted living or memory care support services, we're here for you. Let's talk.