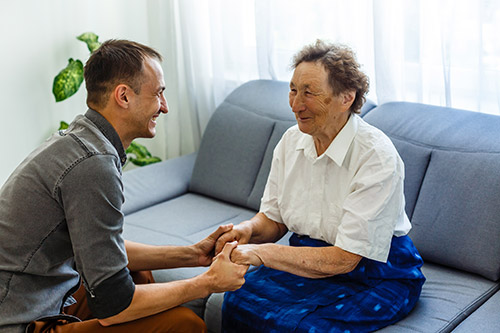 This is the third of a three-part blog series designed to help those of you considering a transition to professional senior assisted living care here in Gainesville. So far, we've covered when is the right time to move and how to prepare for a move. Today, we'll cover what to expect after the move.
It's important to remember that it can take a while to adjust to your new environment after any move. After a move is complete, everything will be new: new place, new people, and new routines. Here are our recommendations for making your move as smooth as possible:
Get set up for success. Take time to get properly settled. Decorate your new space and make it as comforting and familiar as possible, which will make it feel like home much more quickly. This will also make the transition less disorienting and confusing.
Call or visit often. Familiar faces and voices can make a stressful transition much easier to handle. We encourage family and friends to call or visit often. And seniors are encouraged to reach out and connect whenever they feel the need for some familiar company.
Be patient with yourself. Keep in mind that adjusting to a significant change like a move takes time.
The bottom line
The right moves for seniors are often made with ample research and planning. We recommend evaluating your situation carefully. Maybe the simplest advice is to lean on us here at Manor Lake Assisted Living and Memory Care every step of the way. We are honored and confident in our ability to help you achieve the smoothest transition possible. Contact us!