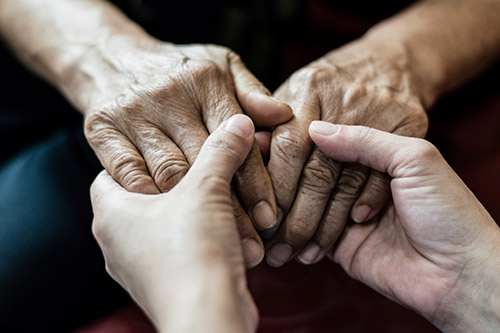 First and foremost, stop and realize that you are not alone and that you are loved. Consider all of us here at Gainesville's Manor Lake Assisted Living & Memory Care to be a ready, empathetic, loving, and professionally experienced resource for you.
Being diagnosed with Alzheimer's, no doubt, is a life changing event. For many, it will seem like the end of the world. However, rest assured that is it not. So where are you and where are you going?
You understand something is not quite right. You've known for a while because you recognized the gaps in memory. You struggled to remember conversations you just had. People reminded you of things they told you only previously that day, and sometimes you couldn't put a name to the face, even for a close family member or friend you've known most of your life. You see your doctor and she confirms your suspicions. Make no mistake, your doctor should be considered one of your most trusted advisor. Consider your family caregivers and/or special friend(s) right up there as well.
Alzheimer's is a frightening diagnosis. When you or somebody you love has been diagnosed with this form of dementia, it's important to not get caught up in what you are still capable of doing right now and ignoring what the future may hold.
You might not want to think about assisted living at this moment, but it is a topic to discuss as early as you can. Keep in mind, though, that whether this is you, a spouse, a parent, or somebody else you love who has been diagnosed with Alzheimer's, it might take a while for them or you to absorb this new diagnosis.
Even though you may have realized something wasn't quite right and worried that could be Alzheimer's or something similar, receiving that formal diagnosis can be a shock to your life. Now what?
First, allow this person — or you — time to deal with it.
Don't rush them through the process. Everyone goes through different stages of grief at different times. When you realize what the future will hold and that there is no cure for Alzheimer's at this moment, it can feel like a loss already.
Yet, it doesn't have to be a loss. Not for a long, long time still to come.
Second, discuss long-term care options.
This should include memory care assisted living. When an elderly person who has been diagnosed with Alzheimer's or another form of dementia looks into memory care assisted living communities like ours, they're looking into adequate support in the years ahead.
Their spouse, their adult children, their friends, their neighbors, and others might be more than willing to support them so they can remain home, but as the disease progresses it will steal more memory, more mental function, and eventually cause more health issues and limited mobility.
This will place a tremendous amount of pressure on that caregiver support system at home. Plus, a lot of things can and often are missed when people have no prior experience supporting an elderly person through the different stages of Alzheimer's.
A memory care assisted living facility — will have properly trained and experienced staff ready to support you or that person you love through the advancing stages of Alzheimer's. They can offer comfort, be the buffer between the memory loss and family members who can get caught up in the verbal or even physical outbursts from the individual. They will understand what comes next, how to remain calm and rational, and how to best support that elderly person as they face this long and difficult road ahead.
If you or an aging loved-one is considering a move to a memory care community in and around Gainesville, Georgia, please contact our caring staff today!