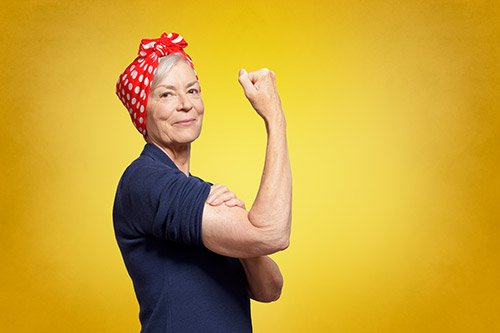 Hello once again from our team of Gainesville-area assisted living and Gainesville-area memory care professionals. Since it is dangerously hot outside these days, you all are probably looking for things to do inside to have some fun and beat the heat. Today we thought it might be inspiring to consider our list of "Inspiration Women over 60" to introduce to you some uplifting introductions and to inspire you to research further about any of these inspirational women that you find particularly interesting.
So, here you go. Twenty inspirational women over 60:
Inspirational Women Over 60
Many of these women have been pioneers in their careers. Some are less well known, while some have made it into the history books. Some of them are no longer with us, while others continue to make incredible strides. All of them, however, inspire us to live our best lives.
1. Iris Apfel, 97
She's been called unique, iconoclastic and a "rare bird." The subject of a brand-new documentary entitled "Iris," Iris Apfel has spent the last 60-odd years as a legendary designer of jewelry and clothing, as well as an interior designer who has consulted for nine presidents at the White House. At age 84, she and her designs were the subject of an exhibition at the Costume Institute of the Metropolitan Museum of Art, and at age 90 — just a few years ago — she inspired a line of MAC cosmetics.
2. Ruth Bader Ginsburg, 85
Supreme Court Justice Ruth Bader Ginsburg was, of course, only the second female justice in United States history, nominated in 1993 at the age of 60. She continues to serve on the Supreme Court and influence key decisions furthering the rights of women, and she has been on the Forbes list of "100 Most Powerful Women" as well as the subject of the popular Tumblr blog Notorious RBG celebrating her judicial accomplishments as well as her status as an inspirational part of women's history.
3. Debbie Allen, 68
Debbie Allen will be a familiar face to anyone versed in the world of dance and choreography over the past several decades. Though this former Broadway star and member of the President's Committee on the Arts and Humanities is best known for her work on Fame — not only the original film but the TV series and 2009 remake — she's also been a TV and stage producer, a judge since 2007 for So You Think You Can Dance, and founder of the Debbie Allen Dance Academy for youth in Los Angeles, California.
4. Joan Rivers, 1933-2014
This sharp-tongued icon of comedy was the first woman to host a late-night talk show on network TV, "The Late Show with Joan Rivers," which debuted in 1986 when she was already 53 years old. In 1989, she went on to host a daytime talk show, which would run for four more years, and appeared on a number of other cable TV shows on fashion and entertainment. She wrote 12 books, received a Grammy nomination, and contributed to a number of philanthropic causes. By the time she died in 2014, she was known as one of the greatest trailblazers for female comedians.
5. Joan Ganz Cooney, 88
Joan Ganz Cooney might not be a household name, but her accomplishments have definitely reached countless households: as the founder of Children's Television Workshop, which produced "Sesame Street" and "The Electric Company," Cooney has received numerous Emmy Awards, including the Emmy for Lifetime Achievement in 1989. She has received the Presidential Medal of Freedom, she's been inducted into the Academy of Television Arts & Sciences Hall of Fame, and in recent years, her innovations in children's programming have inspired various literacy and learning programs named in her honor.
6. Georgia O'Keeffe, 1887-1986
Georgia O'Keeffe is one of the 20th century's best-known painters, famous for her lush close-up depictions of plants and flowers as well as her images of Southwestern landscapes. The wife of pioneering photographer Alfred Stieglitz, O'Keeffe continued producing art in various media, including drawing, painting, and later, sculpture, until two years before her death at age 98.
7. Tao Porchon-Lynch, 100
Tao Porchon-Lynch has been an actress, a model, a dancer, a wine expert and she's set a Guinness World Record for the oldest yoga instructor. Born in India, this sometime winner of the title "Best Legs in Europe" has traveled the world, meeting luminaries like Mahatma Gandhi, Charles de Gaulle, and Martin Luther King, Jr. She became a full-time professional yogi in 1967, and has continued to do yoga (and dance) throughout her life, releasing a yoga DVD as recently as 2013. In "The Imperfect Environmentalist" by Sara Gilbert, Porchon-Lynch was quoted as saying, "I'm going to teach yoga until I can't breathe anymore."
8. Dr. Ruth Westheimer, 90
Although Dr. Ruth Westheimer has long been an advocate for safe, healthy and enjoyable sex, it wasn't until she reached her mid-50s that she became known for her frank, down-to-earth advice via her radio show: "Sexually Speaking." Since then, she has continued to educate the public through television, magazine and newspaper columns, books, teaching college classes, and providing advice on her website — and she continues to operate a private practice in sex therapy. She has won countless awards, including Honorary President of the Council on Sexuality and Aging.
9. Jacquie "Tajah" Murdock, 87
This former Apollo Theater dancer and Harlem native is not only smart and educated (she holds a master's degree from NYU), she continues to be a fashion icon well into her 80s. She's always had a love of fashion, and the glamour of movie stars like Marlena Dietrich and Lena Horne inspired her to create a unique style of her own. She was recently featured in the documentary Advanced Style, about older New York City women who still rock the fashion world. In a recent interview with Soul Train, she said, "I want older women to know that there is life after the ages of 50 and 60. I want them to know that you must be active — you cannot just sit there and twiddle your thumbs. They should keep active, do something they like and get involved because life is for the living."
10. Aung San Suu Kyi, 73
Suu Kyi is Burma's best known opposition politician, and the chair of the National League for Democracy, working tirelessly over the last 25 plus years on behalf of non-violence, peace, human rights and democratic rule in Burma, despite spending almost 15 of those years under house arrest by the existing government. She has received numerous international accolades for her efforts, including the Nobel Peace Prize and the Presidential Medal of Freedom, and as of 2014 was listed by Forbes as the 61st most powerful woman in the world.
11. Beatrice Wood, 1893-1998
Wood, a ceramic sculptor and sometime actress, died at the astonishing age of 105 after becoming known as the "Mama of Dada" and a compatriot of many of the key figures of modernist art. Anais Nin, Man Ray and Marcel Duchamp are just a few of the avant-garde artists in her circle of friends. At the age of 90, she added "writer" to her list of artistic accomplishments, publishing her autobiography entitled: "I Shock Myself," in 1985. Regarding her longevity, she said, "I owe it all to chocolate and young men."
12. Alice Waters, 74
Alice Waters is the founder of one of America's most renowned restaurants, Chez Panisse, and is credited for inspiring California cuisine as well as being the first woman to win the James Beard Foundation's Best Chef in America award. After pioneering the use of fresh, organic, and local ingredients in her Berkeley, California, restaurant (founded in 1971), Waters went on to write several cookbooks, consult on school lunch reform, and train many younger chefs to celebrate healthy food ideals.
13. Annie Leibovitz, 68
This well-known entertainment photographer has taken many of the last century's — and the current century's — most iconic pictures of celebrities, including the famous photograph of John Lennon and Yoko Ono in a bed, taken on the day Lennon was murdered in 1981. She's photographed everyone from Lady Gaga to Queen Elizabeth II to Benedict Cumberbatch.
14. Bernadette Peters, 70
Another showbiz great, Bernadette Peters has starred in musicals, films, and television shows since the 1960s, and is still going strong — just one of her recent accomplishments was a Grammy Award for Best Musical Theatre Album in 2004. While my own generation might know her best as Lily St. Regis from the 1982 movie Annie, it was her role in 1974's musical Mack and Mabel that catapulted her into the spotlight. Most recently, in addition to continuing her performances on stage and screen, she's also begun writing children's books, and contributes to many charitable causes.
15. Jane Goodall, 84
After 55 years of studying chimpanzees in the Gombe Stream National Park, Tanzania, Jane Goodall is considered to be the world's leading chimpanzee expert. She's been the subject of films and books for both children and adults, the recipient of dozens of awards, and in her later years, continues to be an activist on behalf of animals and the environment. Oh — and she's even been the grand marshal of the Tournament of Roses Parade, in 2013.
16. Katharine Graham, 1917-2001
A pioneering journalist who President George W. Bush called "the beloved first lady of Washington and American journalism," Graham led the Washington Post newspaper to prominence during the publication of the Pentagon Papers in 1971 and the Watergate scandal in 1974. She took over the company in 1963 at the age of 46 and didn't leave until 1993; during that time, she became the first woman to lead a Fortune 500 company and to serve as director of the Associated Press. Her memoir, written in 1997, went on to win a Pulitzer Prize for biography.
17. Sister Madonna, 88
It isn't surprising to hear that someone who has earned the moniker "the Iron Nun" wouldn't show any signs of slowing down even at age 84. Spokane nun Sister Madonna Buder competed in her first triathlon at age 52 and since then, has competed in nearly 50 Ironman events and over 325 triathlons worldwide. Just this past month, she was dubbed the Ironman All World Athlete Champion for her age group — of course, because of her age, the Ironman organization keeps having to create new age brackets for her to compete in!
18. Olga Kotelko, 1919-2014
Another star runner, Canadian athlete Olga Kotelko's real athletic career began after her retirement from a 30-year teaching career. A baseball player in her youth, she took up slow-pitch softball and, in her 70s, started training in track and field, eventually earning the distinction of oldest female high jumper in history. She's broken world records and won dozens of awards. Scientists have even studied her amazing physical fitness levels, the results of which inspired the 2014 book: "What Makes Olga Run?: The Mystery of the 90-Something Track Star and What She Can Teach Us About Living Longer, Happier Lives."
19. Vivienne Westwood, 77
English fashion designer Vivienne Westwood is perhaps most famous as the co-creator (along with Malcolm McLaren) of the punk and new wave style, including all those safety pins, spiked collars, and bike chains. She continues to design clothing for the catwalk and for notable entertainment clients including Pharrell Williams, whose iconic hat was in one of her 1980s collections. She is also an activist for a number of civil rights and environmental causes.
20. Maya Angelou, 1928-2014
A prolific, influential writer and the author of internationally recognized autobiography I Know Why the Caged Bird Sings, Maya Angelou has been known and respected as a spokesperson for women and people of color throughout her life, giving lectures and readings well into her 80s. She published poetry, essays, and an impressive seven autobiographies, the most recent of which was published in 2013. In 1993, she recited a poem at Bill Clinton's presidential inauguration, and during the later 1990s and 2000s, she continued to be active by collaborating with R&B artists, creating a line of Hallmark cards, and campaigning for the Democratic party.
As always, if you have any questions or concerns regarding how to provide both loving and safe care for your senior loved one, contact Manor Lake Assisted Living and Memory Care here in Gainesville.