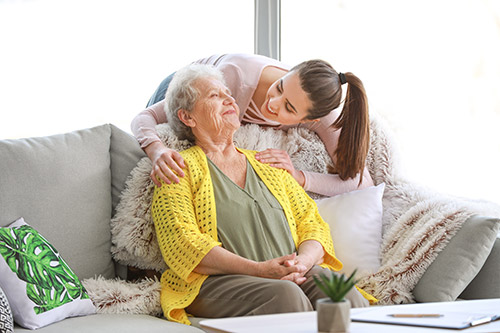 Hello and welcome back to our Manor Lake Assisted Living & Memory Care blog. Today we turn our focus to all of you at-home care givers who looking for inspiration and strength to carry on in your assisted living care and/or your memory care support services. We're here for you.
One of the most important things you can do as you walk this path is take care of YOU. Believe me, it's easier said than done, but it really is important to stay healthy, that is mentally, physically, emotionally, and spiritually. As you watch your parent sink into the depths of dementia, it will consume you. You are fighting with the devil, and you will not enjoy many victories along the way. That said, what you can do, is stay alert, stay strong, stay healthy. Here are some at-home caregiver suggestions to keep you going:
Meditate daily for at least 15 minutes.
Take a vacation when/if you can. Do not feel bad about leaving your parent (just make sure you leave them in the care of a responsible caregiver).
Take a day trip. Again, same rules as above apply in terms of finding a responsible parent-sitter, etc.
Find a hobby. Join a book, hiking, running/walking, or photo club, that is anything that's social and lets you mingle with others (remember, there is life beyond dementia).
Find a support group. The Alzheimer's Association in your area can help you with this.
Take long walks whenever you can (I would take my mom with me and it seemed to help mellow her out, too).
Join a gym or hit up the YMCA.
Go for a run.
Try to eat healthy foods.
Look for an adult daycare center for your parent. Contact the Alzheimer's Association for information. They should be able to help you out.
Find out if you and/or your parent qualify for Medicaid. If you do qualify, this can help off-set future costs. An eldercare lawyer can point you in the right direction.
Talk to your spiritual leader. Sometimes, you just need to wrap your head around WHY.
Seek out respite care. Check out the National Alliance for Caregiving. They should be able to point you in the right direction.
Become an advocate with the Alzheimer's Association. There isn't much you can do to change your circumstances, but by becoming an advocate, your voice will be heard.
All of us here at Manor Lake Assisted Living & Memory Care here in Gainesville do everything we can to make sure seniors and their families feel comfortable, happy, and at ease as a cherished member of our community. Give our team of senior care and memory care professionals a call today or schedule a tour anytime!