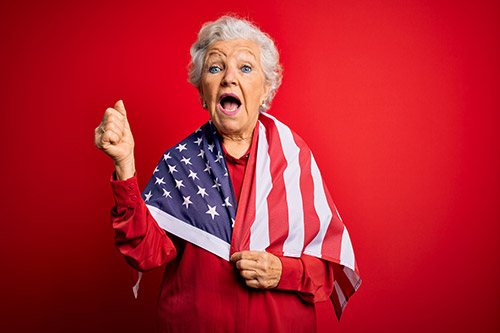 At Manor Lake Assisted Living and Memory Care here in Gainesville, we celebrate our residents and their spirit of independence not only on July 4th, but every day of the year. Our dedicated and loving staff is here to accommodate the unique lifestyle our residents choose so that they can enjoy the freedom to do what makes them happy. The flexibility afforded by this lifestyle option often has our dear assisted living residents wondering why they didn't make the decision to move sooner!
We believe the key to a positive independent living experience lies in having a well-trained and dedicated service staff to anticipate the wants and needs of our residents. One of our top priorities here at Manor Lake is to empower our team of professionals to deliver the highest standards in hospitality services. We support your loved one's independent streak! When wants and needs change, we help our senior residents navigate the senior living journey by having open conversations with senior family members that focus on long-term needs and maintaining a level of independence that fits those needs. When changes need to happen, family members can also focus on the positive aspects of those changes.
Our senior living options are designed to promote optimum levels of independence for our residents along with the freedom to enjoy the lifestyle they deserve! To learn more about our senior assisted living services and the quality of life you and your loved ones can enjoy here at Manor Lake Assisted Living & Memory Care here in Gainesville, contact us.