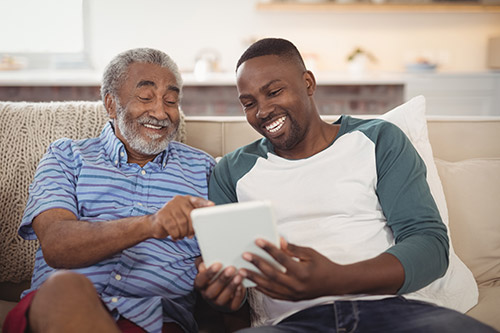 Whether you spent Father's Day with Dad here at Manor Lake Assisted Living & Memory Care (here in Gainesville) or not, start thinking about your next tribute to remind him of how special he is to you and your family. If life got in the way and you could not be with Dad this past weekend, it's not too late to make next weekend something very special.
It is our pleasure to share our professional experiences and lessons learned regarding assisted living and memory care support services. One lesson learned is that paying tribute to your aging Dad should not be a Father's Day only affair. Look deep into your creative self and do something more from the heart than the wallet.
Here are four particularly rewarding tributes that Dads of all ages will enjoy:
1. A Handmade Family Tree
Even if you think your father isn't nostalgic about the past, people do change as they get older. Some discover, in their senior years, a sudden passion for genealogy. Others simply want to talk about the past more often than they ever used to do.
Either way, a thoughtful gift might be a handmade family tree from you.
There are templates you can use which merely require you to fill in the names of the generations by hand. Then, you can take your finished product to a copy store and have it printed out for framing.
Choose good quality paper and you've created a real family heirloom.
2. Top-of-the-Line Gourmet Food
Some seniors become picky eaters as they age. What used to taste great may now be undesirable. It could be because dietary needs change as we get older. Sometimes it is the side effect of a medication.
One way to jump-start an older father or grandfather's appetite is to offer up something irresistible.
Does your father love Mexican food? Have gourmet tamales shipped in from someplace where they specialize in authentic, homemade tamales.
Is he a cheese hound? Research the best-of-the-best cheeses and assemble an assortment from around the world.
3. A Photo Printer
Fathers these days tend to have a lot of digital pictures stored away on hard drives. Whether its pictures of grandchildren or places they've traveled to, the images are stored digitally and therefore viewable only on a device.
If your father is like most in his generation, he may yearn for the days when photos were printed and easily accessible in a shoebox. One thoughtful present would be to give him a photo printer.
That way, he can print out the photos he loves and have them in the format he's used to.
4. A Digital Transformation of His Old Slides & Movies
This one is the opposite of the idea above. Seniors also tend to have lots of slides and movies tucked away, too. Just think: their child-rearing days coincided with the first home movie cameras. Going back even further, they may also have slides of their early days before you were even around.
The trouble is slide projectors and old reel-to-reel projectors have a funny way of failing after several decades of lying around in storage in a closet. That means all those great memories are locked away on outdated media formats.
There are companies who specialize in this. You give them your old slides or reel tapes. The company returns them along with a CD that contains everything in digital format.
The best part about this special gift is that you get to share it together. In fact, viewing the old memories can become a family event. One that is truly a memorable and meaningful gift that is sure to warm the hearts of everyone. Prepare for tears!
To learn more about our approach to professional assisted living and professional memory care services, call us anytime!