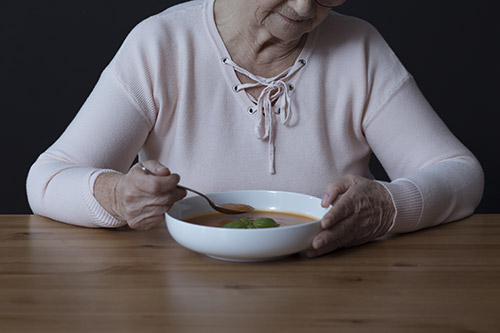 Our team of professional memory care and assisted living care providers here at Manor Lake Gainesville are there for all of you, young and seasoned alike. Today's blog offers "food for thought" pertaining to senior nutrition. Your senior Mom or Dad's dietary requirement is significantly different than your senior in high school. Across the nation, without even realizing it, well intentioned senior care givers are denying their senior loved one of a healthy diet. Add in the fact that as the coronavirus pandemic persists, researchers continue to say a weakened immune system can increase an older adult's risk for the virus. A poor diet can often result in decreased immunity. In addition, there are other health issues linked to malnutrition:
Chronic fatigue
Loss of bone density
Slow healing wounds
Increased risk for falls
Learning what puts older adults at risk for a poor diet or malnutrition will help you learn how to detect a problem and address it.
Evaluating a Senior's Risk for Malnutrition
Research from the Mayo Clinic report that physical, social, and psychological factors contribute to poor dietary conditions within our senior community:
Physical: As you are exploring potential reasons that an older loved one isn't eating well, consider physical problems. Poorly fitting dentures, for example, might make chewing painful. Struggling to stand for very long and prepare meals could lead a senior to eat very little. Then there are conditions like Parkinson's disease and arthritis that make tasks associated with preparing healthy meal, such as slicing and chopping vegetables, difficult and even dangerous.
Social: Meals are often a social occasion and a time to connect with friends and family. For seniors who are trying to physically distance from others, eating alone might be necessary. The longer an older adult is isolated, the tougher the situation can become. Cooking for one may seem like too much work after a week or two. A senior can turn to fast foods and convenience items, including frozen dinners, processed foods, and canned foods instead. These tend to be low in nutrients, and high in sodium and trans-fat.
Psychology: Other issues that impact nutrition are grief, depression, isolation, and loneliness. A death in the family, a change in personal health, or anxiety about the coronavirus are just a few psychological challenges that can affect a senior's eating habits. Sometimes people trying to cope with stress, anxiety, or depression may consume too many unhealthy comfort foods or sugary treats. Other times a person in psychological pain can lose their appetite altogether.
Once you pinpoint the cause of a senior loved one's poor nutrition, it will be easier to address those concerns. Whether it is having groceries delivered or exploring meal delivery services, there are a variety of solutions to consider.
If you are considering a senior living community for yourself or a loved here in Gainesville, we invite you to come visit and see the thriving senior assisted living community here at Manor Lake Gainesville and/or our loving memory care community here in Gainesville as well!