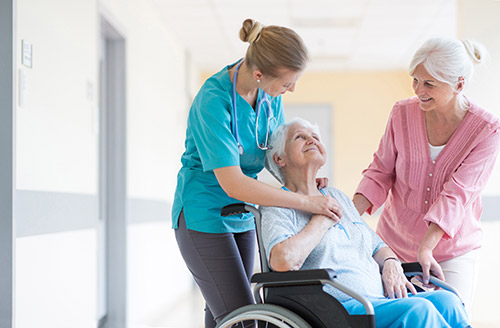 We'd like to share some keen insight with you from Dr. Elizabeth Galik (Phd, CRNP) and Dr. Richard Stefanacci (MD, DO) regarding their views on improving care for patients with dementia. It is a professional obligation for the staff here at Manor Lake Assisted Living & Memory Care (Gainesville) to exercise continuing education on the subjects of professional assisted living care services and professional memory care services. The big takeaway here is the need for those of you caring for a loved one with any form of dementia to be honest and proactive to position both you and your loved one from suffering avoidable (and sometimes unrecoverable) quality of life crisis.
With over 5.8 million individuals living with dementia, and after failures of all the recent attempts for treatment or cure, there is no better time to get back to basics in the geriatric management of dementia. As in most geriatrics care, providing quality dementia care requires a caring collaborative for the best clinical, psychosocial, and financial outcomes.
Most think of dementia care in the long-term care (LTC) setting as occurring in the late stages of the disease within the confines of the LTC units of a skilled nursing facility. However, an increasingly large number of early-stage dementia patients are coursing through the subacute units of skilled memory care communities. So in addition to addressing acute medical comorbidities and rehabilitative goals of traumatic injuries, these subacute stays often signal a major change in cognition, function, or behavior for individuals with dementia.
These changes in condition will require a reassessment of the plan of care for these patients, regardless of whether they return home, move in with their family, or transition to professional memory care on a permanent basis. The subacute stay provides an excellent opportunity to modify the plan of care for patients with dementia and their families.
Proactive Planning
Dementia — a chronic or persistent disorder of cognitive processes and functional impairment — is predominately progressive in nature. With a known trajectory of decline in cognition, language, motor function, and perceptual abilities, proactive planning for future care is important to minimize negative outcomes and optimize person-centered care approaches. All too often, this planning is put off for far too long.
In most situations, advance planning for eventualities such as the inability to drive or take medications safely or the need for increasing support to maintain activities of daily living is not addressed until a crisis occurs. As clinicians, we can all play a role in addressing these issues sooner rather than later. One benefit in addressing care and safety needs sooner is that it may be easier for the patient to adjust to a change in routine, a new caregiver, or a new supportive environment early in the course of dementia.
Moving to a more supportive and supervised environment early, when the symptoms are less severe, can actually improve the individual's and caregiver's health and well-being. If the move to a new setting occurs later, after the patient's dementia has progressed to the moderate to severe stages, an accelerated decline may occur afterward.
Often there is a small window for the change to be beneficial. Once that window closes — and if the individual's needs for increased supervision, assistance, and care, potentially with LTC services, have not been addressed — both caregivers and clinicians must prepare for a rescue mission. They may be confronted by an impending crisis that arrives in the form of a traumatic fall, motor vehicle accident, getting lost, or other major catastrophic event.
The post-acute and long-term care (PALTC) interdisciplinary team frequently works together with individuals with dementia and their families to address realistic care and rehabilitative goals. They may deprescribe unnecessary or inappropriate medications, optimize quality of life, and assess and manage the complicating medical comorbidities and behavioral and psychological symptoms of dementia.
If you live in or around the Gainesville area and ever have questions about the challenges of creating a 24/7 safe and loving atmosphere for your senior loved on, we're here to help. We want to develop a relationship with you based on trust and a common love for our ageing loved ones. We trust that when the time comes, you'll team with us for your professional senior assisted living or memory care support services. Together, we'll provide the best loving care possible. Give us a call. Let's talk.