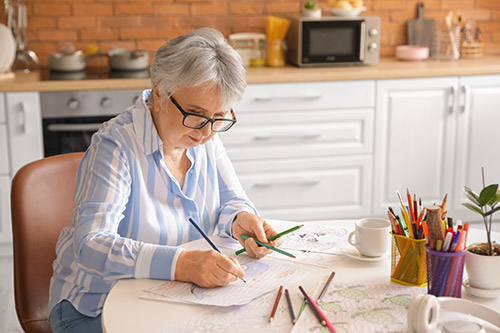 By now, most of you know that we manage our Manor Lake Assisted Living & Memory Care blog for the benefit of all of you at home in the Gainesville area caring for your loved one with senior assisted living needs and/or memory care challenges. We do this because you are neighbors and friends, but most importantly, because we view you as heroes. As professional care givers, we know the challenges that you face. And we want to do our part to help. Today we're going to discuss how to welcome the changing of the season from Summer to Fall. We'll give you all some Fall-season themed ideas to engage upon with your loved ones. We offer this while crediting dailycaring.com as the source for these ideas.
Enjoy fall-themed coloring pages
Coloring is an activity that everyone can enjoy, from the very young to the very old, as a solo activity or with others.
As an added bonus, psychologists say that coloring has stress-busting abilities similar to meditating.
There are hundreds of free, fall-themed coloring pages available online, here are some of our favorites:
Autumn scenes with people, trees/leaves, pumpkins, scarecrows, and squirrels


A variety of fun fall scenes including fall scenes and animals, trees/leaves, pumpkins/squash, and Halloween-themed pages


24 fun Halloween designs including a few classic Disney characters


Work on a fall-themed jigsaw puzzle
Sitting at the table with a warm beverage and a festive puzzle is a great way to celebrate the season.
Here are some of our favorites:
Prepare festive (and easy!) homemade treats
Baking, mixing, and assembly are fun activities that many older adults will enjoy.
Mmmm! Try these delicious and easy-to-make treats:
Enjoy the natural scenery and fresh air
Fall is a wonderful time to enjoy nature with your older adult.
Bundle up and breathe the fresh air, admire the beautiful colors on display, and hear the crunch of fallen leaves as you walk.
Be sure to wear face masks (unless it's not safe for your older adult's health conditions) and keep a safe distance from other people.
Adapt activities to suit different mobility levels:
Open a window to smell the fresh air and take in the scenery


Relax in the backyard or on the porch


Walk to the mailbox and back


Stroll a block or two in the neighborhood


Walk through a local park


Manor Lake Assisted Living & Memory Care here in Gainesville offers a wide range of care options that can help alleviate some of the stress, anxiety, and fatigue that come with caregiving on one's own. We understand that taking care of aging loved ones can progress from slightly challenging to completely overwhelming in a matter of days, but we are here to support your family every step of the way. We offer senior assisted living and professional memory care services here in Gainesville and we will work with you to determine what is right for you and your loved ones. Now may be the time to have that discussion. Contact us today.