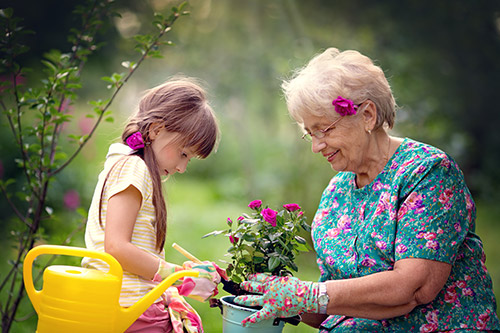 Spring is finally here, and that means warmer weather has begun! Let's hope it's here to stay! After a cold winter, a spring celebration is almost necessary. Here are some fun ways to welcome the new season with your loved one who requires senior assisted living help or for your loved ones requiring memory care support services.
Arrange fresh flowers in a vase.
It is obvious that flowers are associated with spring – this is the season that flowers start to grow and flourish. At this time, flowers are bountiful and available and therefore less expensive. Why not bring some fresh ones into your home? Not only do flowers bring a wonderful scent (for those of you that like floral smells) into an environment, but a study done at Harvard has also found a few other positive effects: 1) Feelings of compassion and kindness for others are increased for people who have fresh cut flowers in their homes for only a week. 2) Negative feelings, such as anxiety, worrying, and sadness are decreased after being in a home with flowers. 3) Living with fresh cut flowers can increase energy, happiness, and enthusiasm at work. For those who enjoy creating, make pastel drawings or watercolors of the flower arrangement.
Start gardening.
Gardening is a good way to get away from everyday worries for a little bit. It has been shown to be good for your health in a number of ways: 1) Time away from electronic devices by focusing attention on nature can relieve stress. 2) Gardening decreases symptoms of depression. 3) It is a form of exercise that gets the blood moving. 4) The increase in physical activity associated with gardening has been shown to decrease risks for dementia. Start seeds indoors if it is a cold, rainy day.
Hang a bird feeder.
After birds' migration to warmer weather during the winter months, hanging a bird feeder in the spring is a great way to welcome our feathered friends back for the spring and summer months. Bird feeders can promote education and learning about birds and can also be a way to connect with nature. Early risers can watch the birds feed in the early morning if a bird feeder is near the breakfast table, or you and your older adult are able to venture outside.
Have a picnic outside.
Why not switch up the daily routine and take a meal outside? Picnicking allows you to slow down and enjoy what you're eating. It can also improve your mood and connect you with your surroundings and the people around you. The fresh air that you get while picnicking can revive your body and clear your mind. If the person you're caring for is able to walk to the picnic spot, s/he will get a little exercise in, too.
Do some spring cleaning.
While cleaning isn't always everyone's favorite thing to do, it is a great way to start a new season, especially spring. Cleaning for the spring, or any time, offers many benefits including having a clean and organized home, ridding your home environment of mold, mildew, dust, and bugs, decreasing clutter, prolonging the life of your appliances, and an overall sense of well-being and accomplishment. Dusting and straightening objects, even folding laundry, can be soothing tasks for people with low focus and restless energy. Everyone needs a sense of purpose and to know they can contribute.
Walk around barefoot!
After being "cooped up" in socks and warm shoes all winter, your feet are probably itching to be free. What might surprise you are the many benefits that walking around barefoot can have. Choosing to forego socks and shoes can give you greater balance, strength, and healthier feet, which decreases the number of foot conditions. It can also give you greater circulation, better posture, decreased blood pressure, and reduced inflammation (shown to be the number one cause of disease in the 21st century). Who would have known our bare feet could be so beneficial!
If the thought of being barefoot seems silly to the senior you're caring for, or makes them chuckle, encourage them to talk about the time they were barefoot as a child, teenager, or as a young parent raising barefoot children.
These are just a few ways to embrace the warmer weather and the benefits that come with spring, but even simply appreciating the sun and outdoors (even from inside) can be a celebration and bring a new sense of purpose to life.
At Manor Lake Assisted Living & Memory Care here in Gainesville, we know caring for an older adult brings joys and challenges. Our mission is to change the way the world ages. We provide seniors with quality care that enables them to live happier and healthier lives. Our services are distinguished by the caliber of our caregivers, the responsiveness of our staff and our expertise in Live-In care. We embrace a positive, balanced approach to aging centered on the evolving needs of older adults. For more information, contact us here at Manor Lake Gainesville anytime!