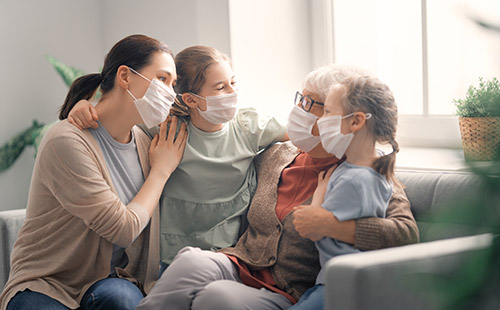 When a parent or older loved one moves into an Assisted Living or Memory Care Community like ours here at Manor Lake, it is very important that family members and friends maintain the same level of connection with them that existed previously. Both our assisted living community and our memory care community are very supportive of this, as it plays a huge role in the overall well-being of their residents.
Let's look at five great ways to stay physically and emotionally connected with your loved one here at Manor Lake.
Sharing Memories
Reminiscing over special family memories, such as weddings, birthdays, vacations, and other joyful experiences is a great way to keep the family bond strong. When you visit your loved one, bring in photo albums, videos from your phone or other mementos that will bring happiness to everyone involved.


Utilize Technology
In today's digital age, technologies such as FaceTime are a fantastic way to visit with loved ones, even if a family member is out of state. In addition to speaking to someone over the phone, being able to see them on live video makes the experience even more special. Showing your loved one videos on your phone of other family members, sporting events or other special occasions is a simple but very powerful way to keep everyone connected.


Take Advantage of Local Attractions
If your parent or older loved one is capable of it, take them out for lunch or dinner at a local restaurant. Also, visiting a local park and enjoying the outdoors can do wonders for the mind and spirit. Events don't have to be complicated or far away for family members to enjoy spending time together.


Enjoy a Meal Together at Their/Our Community
While dining out is always an enjoyable experience, here at Manor Lake, we encourage friends and family members to visit their loved ones to enjoy a meal together on property. We offer delicious food in a relaxed and comfortable setting and there is plenty of room for everyone.


Going for a Drive
Taking a drive together in the car is another great way to enjoy lively conversation as you take in beautiful scenery. It will give your loved one the chance to see something new and catch up on the latest news about everyone in the family.


To discuss this topic further or to discuss any question concern regarding assisted living or memory care services, contact us here at Manor Lake.