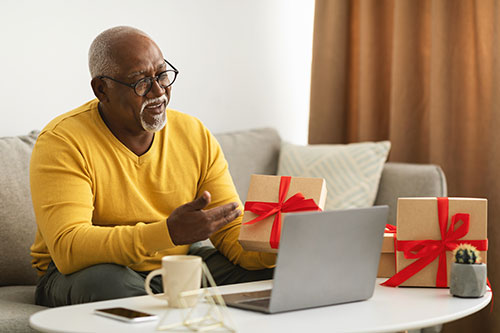 Very warm Christmas season's greetings from all of us at Manor Lake Assisted Living & Memory Care here in Gainesville. We fully realize that life's conflicts get in the way of being with family over the Holidays. For all of you with family members serving our country overseas and unable to return home, our most sincere thanks for your sacrifice. So today, we offer a few ideas for celebrating remotely with your loved ones here at Manor Lake.
Mail cards and letters. Receiving cards during the holidays is a great way to remind your loved one on a daily basis you are thinking of them. Recruit family members and grandchildren to send them as well. Send them out over the course of several days—even if they're small, they'll put a smile on your Mom or Dad's face. Compose a letter that details a favorite holiday memory and include old photos if you have them.
Video Chat. When families are separated, technology can be a true gift for celebrating holidays remotely. Talk to the staff here and ask them to help arrange a Zoom or Facetime call with your loved one. Gather family members together and keep the conversation upbeat. Sing a few carols together. Show them decorations in your home or let them sit in during your tree-decorating tradition.
Work on a holiday craft together. Getting a loved one involved is a great way to help them feel included in your holiday activities and can stimulate some cherished memories. Think of a simple craft or ornament you could make together and send them the supplies. Then arrange to have a video call so that you can both assemble it at the same time. This is a great way to involve grandchildren.
Send cookies and favorite treats. If you've ever received a "care package" from a long-distance parent filled with delicious homemade treats, you know how special it made you feel. You can do the same—bake some favorite treats and put together a box filled with delicious surprises. Your Mom or Dad will appreciate your thoughtfulness and thru sharing, very likely will make lots of new friends!
Mail a box of gifts and designate one to open each day. Take a week and tell your loved one you would like them to open one gift a day, and that you will call them first so you can experience the moment together. Again, using Zoom or Facetime will make it even more festive. Or, you can mail a box of gifts and ask them to wait until your family is opening presents—then you can all do it at once.
Text and call often. It's easy to get so busy during the holidays that the days fly by. Be sure to stop and take a moment to call or text Mom or Dad often to let them know you are thinking about them. You can talk about the cards you've sent them, or let them know what activities your children are involved in. Also, if you have access to the assisted living activities calendar, you can see what holiday events are available and encourage your Mom or Dad to attend.
Talk to caregivers and staff. We encourage you to reach out to both our Assisted Living support team as well as our Memory Care support team to let them know you'll be celebrating the holidays remotely. Tell them if there's a favorite holiday meal or tradition that is very important to your loved one and ask if arrangements can be made to help make it happen.
Sharing laughter, joy, and praise is what the holidays are all about. There are lots of ways to reach out and include your loved ones in the celebration. Here at Gainesville's Manor Lake Assisted Living & Memory Care we celebrate every person's unique traits and help them maintain as much independence as possible. Have a warm and blessed Holiday season!