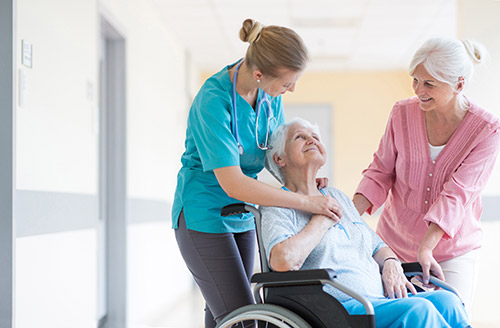 Today's blog post is designed to help those of you out there trying to decide the strategic care plan for a loved one suffering from the early stages of Alzheimer's or other dementia-related disease. It is very common for all of you care providers to be confused regarding exactly what type of professional care is best now, assisted living or memory care. We are proud to inform that we lovingly provide both services here at Manor Lake Assisted Living & Memory Care here in Gainesville. We thought we'd share the following with you while crediting dementiacarecentral.com for insightful and informative narrative on this subject.
Even with help from community-based services and respite services, providing care for a loved one with Alzheimer's disease (A/D) or dementia becomes more difficult with time. In later stages of the disease, many people will require more care and assistance than their family members can provide. Even for people who don't need intensive hands-on care, safety may be an issue and they may not be able to stay home alone. Residential care options may be able to provide best for the needs of some individuals. However, these options are often considerations that caregivers and their families find difficult to plan for, or to even discuss.
Residential Care Options for Dementia
The natural progression of Alzheimer's Disease, as well as other forms of dementia, will result in the need for care for loved ones. Depending on one's stage of Alzheimer's/dementia, and his/her ability to function, the level of care and supervision that is required varies. For most families, this means some form of residential care. This is where assisted living, "memory care" comes into play.
Assisted Living Communities
Assisted living residences, such as continuing care retirement communities, are especially suited for those individuals in the earlier stages of Alzheimer's disease and dementia who do not have many medical problems, but who do need more intensive support for Instrumental Activities of Daily Living (IADLs). Many people with dementia will need help with IADLs. These are activities that we perform from day to day that add to our quality of life, but are not as basic to self-care as Activities of Daily Living (ADLs). ADLs are the basic activities that we must perform every day in order to take care of ourselves. Individuals with dementia may also need help with these tasks.
The following tasks are considered to be IADLs:
Managing money (i.e., writing checks, handling cash, keeping a budget)
Managing medications (i.e., taking the appropriate dose of medication at the right time)
Cooking (i.e., preparing meals or snacks, microwave/stove usage)
Housekeeping (i.e., performing light and heavy chores, such as dusting or mowing the lawn)
Using appliances (i.e., using the telephone, television, or vacuum appropriately)
Shopping (i.e., purchasing, discerning between items)
Extracurriculars (i.e., maintaining a hobby or some sort of leisure activities)
Typically, ADLs refers to the following tasks:
Bathing (i.e., able to bathe without assistance in cleaning or getting into tub or shower)
Toilet Use (i.e., able to use the toilet and clean oneself afterwards)
Control or continence of urine and bowels (i.e., able to wait for the right time and the right place)
Dressing and grooming (i.e., able to button a shirt, choosing appropriate clothing)
Moving about (i.e., able to move in and out of a chair or bed, walking)
Eating (i.e., able to eat without having to be fed by another)
Those who are in the middle-stage of dementia require a greater amount of supervision and care than those in early-stage dementia, and for those in middle-stage dementia, assisted living is also a good option. In assisted living facilities, individuals generally live in a private studio, private apartment, or a shared apartment, and have staff available to assist them 24-hours / day. This type of living arrangement is ideal for those who are still able to live with some independence but do require assistance with ADLs. Transportation to and from doctor's appointments and social activities are also offered at assisted living facilities. In addition, assisted living facilities have dining halls where residents gather to eat meals.
Memory Care
For individuals with dementia who require a higher level of skilled care and supervision, memory care units are an ideal option. These units offer both private and shared living spaces. Sometimes they exist as a wing within an assisted living facility or nursing home or they sometimes operate as stand-alone residences. Supervised care is provided twenty-four hours / day by staff trained to care for the specific needs and demands of dementia patients. Memory care units offer the same services as assisted living facilities, in addition to activities that are intended to stimulate the memory of those with Alzheimer's and other dementias, and possibly slow the progression of the disease. Activities may involve music, arts and crafts, games, and more.
For more information, contact Manor Lake Assisted Living and Memory Care here in Gainesville.
Source: dementiacarecentral.com