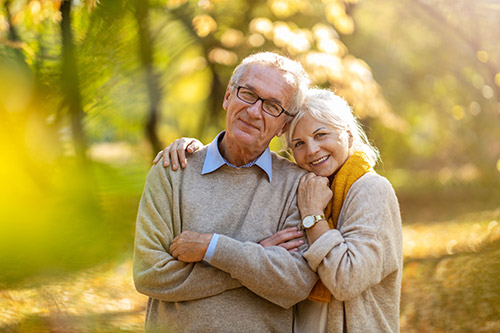 Regular readers of our Manor Lake Gainesville Assisted Living & Memory Care blog know that we provide loving care to their assisted living or memory care dependent loved one. Today, we offer due credit to "BrightFocus Foundation" as the primary source for this blog post and for their genuine professionalism in funding research related to Alzheimer's disease, macular degeneration, and glaucoma.
Today we chronicle the experiences of three caregivers of Alzheimer's and dementia loved ones. They were asked what "best lessons" they could share with a friend who is new to Alzheimer's or dementia caregiving. Below are their responses. But before reading further, all the professional assisted living and memory care staff here at Gainesville's Manor Lake stand ready to share our experiences and lessons learned as well.
Eileen - Years of Grieving. Then Respite. Then Clarity.
Eileen's husband was diagnosed with Alzheimer's four years ago. Their adult children and young grandchildren live out of state. While the children are very supportive from a distance, the daily caregiving role is all on Eileen. Through these four years, she has continued to work full time, at a job she loves.
Her husband remains mostly lucid, but increasingly there have been frustrating and scary moments, threatening behavior, and showering and bathing battles. With these episodes, and with her children's encouragement, Eileen identified a memory care facility in her area, and reluctantly moved him there. The facility instructed her to not visit for two weeks so that he could acclimate. At the end of the two weeks, she went to see him. He was so mad at her, at first, he couldn't even speak. But that lasted only briefly.
Marie - A Newer Caregiver Learning to Accept
Marie is newer to being an Alzheimer's caregiver as her father was diagnosed with mid-stage Alzheimer's just within the last year. He and Marie's mother live with Marie, her husband and their school-age daughter. Marie and her husband both work fulltime – her workday starts at 6 am, his at 2 pm and Marie's mother works part time. These schedules allow one of them to always be with her father, which became necessary following his recent wandering incident.
Through tears, Marie expressed her overwhelming feelings of guilt - guilt for being angry with him for having this disease, guilt for being angry that his behavior makes their life more difficult, and guilt when she wishes things were the way they used to be. She has taken classes to better understand the disease, and says she sometimes reads online caregiver comments, identifying with the guilty feelings people express. So far though, she has not been able to resolve these feelings of guilt. She remains frustrated, angry and tired, and feels bad about not yet being able to accept things as they are. She was not sure she had a "lesson" to offer. I reminded her that guilt is normal, and by doing what she is doing—taking classes and reading the online forums, she is doing all she can right now to accept it.
Edgar - Protecting His Wife
Edgar has been his wife's primary caregiver for ten years. She has dementia, and when I asked him his best lesson as a caregiver, he was not sure he had one. "I am still learning," he said, adding "I don't know if I have adapted." Then, he told me the story of his wife's fall several years ago. She broke her femur, and then a few weeks later, fell again, and was hospitalized with three broken vertebrae. She had tremendous sciatica pain. She was prescribed pain medication that changed her behavior. From the hospital she went to rehab. Her personality remained changed as a result of the opioid medication. Because of this, Edgar then learned all about the side effects of opioids, and feels strongly that before accepting the use of these drugs, patients and/or families should consult with a second physician. Also, be diligent in weaning someone from them as soon as possible and, ideally, limiting their use to no more than 7 days.
Having said that, Edgar was quick to say that he sees many situations, in his wife's memory care facility, with different degrees of difficulty. He cannot say his approach would be the right answer for others. His primary message, though, is to send a big caution on the use of medications in this population. He has been successful in minimizing his wife's use of any drugs, and she has remained stable for several years during the years since recovering from the falls. If she ever has the need for more medication, he will definitely question her physicians about side effects and possible alternatives.
There is Hope and There is Help for all of You
Whether you provide your loved one assisted living support or memory care services, no matter where you are in the caregiving journey, as these stories show, there are struggles and lessons. But through research, we are learning more, and through education and awareness, caregivers can better manage the questions and stresses of caregiving. With more and more resources for caregivers, local community services, and education and sharing, each and every time someone shares a tip or a resource, someone else benefits. And that's why we offer this story and manage this blog.
When it's time for you to seek help from a team of proven memory care professionals in and around Gainseville, contact us. Anytime.