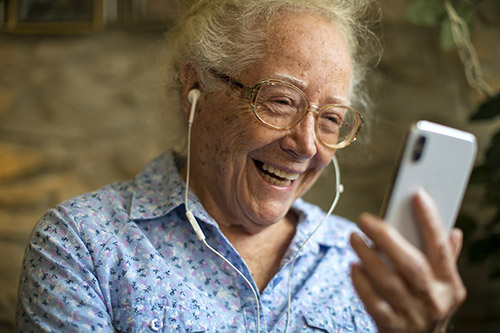 Today we offer you an outstanding article written by Linda Dono, a featured writer with AARP. We believe all readers can take something away from this. To protect the most vulnerable residents against COVID-19, assisted living and memory care communities (like ours here at Manor Lake Gainesville) are raising the bar for casual visits — following federal and health care industry recommendations as coronavirus infections spread across the country.
So, what can you do to keep a loved one engaged and not socially isolated? Here are ideas to show you are still there in spirit and still care.
1. Send snail mail
Handwritten cards and letters are more special than ever, perhaps because electronic communication is increasingly supplanting them. Recipients can display the cards and re-read correspondence to remind themselves that you care.
2. Share a virtual meal
Plan a long-distance date. Order what your loved one likes — and pay for it — via a meal delivery service such as DoorDash or Grubhub and make sure the meal gets there at the appropriate time. Then call to talk during the meal, making sure that your resident knows how to use a speakerphone feature on her cellphone or landline phone.
3. Use other delivery services
You know the snacks your loved likes. Since you can't bring a few packages of treats during a visit, arrange for a bulk delivery.
For those in assisted living or independent living who still like to cook, you can get their grocery lists and do the shopping for them or use a shopping service such as Instacart. Deliver the food as close in as you're allowed and make sure to put the name and address or room number of the recipient on the boxes or bags.
4. Create your own FaceTime book club
If your kids are at an age where they love being read to, make sure Grandma or Grandpa has some kids' books they can read aloud — if they don't, order some online — using the video-calling feature on their digital device.
Among the most popular video calling apps is Apple's FaceTime, but that's for iPhones, iPads and Macintosh computers only. Amazon Alexa, Facebook Messenger, Google Duo, IMO, Skype, Viber and WhatsApp also work on Google Android, Microsoft Windows and other devices.
Be sure to coordinate so that everybody is on the same platform. This way, grandkids of different siblings can be on the same story time call.
Older kids can make the call more like adults' book clubs. Both grandparent and grandchild can read a couple of chapters of the same book and talk about their impressions or what they learned.
Watching the same TV show, such as a documentary on Netflix or Amazon Prime, also can help spark discussion that spans generations.
And if reading a book or watching a documentary isn't an option, perhaps because of your loved one's memory loss, help the kids in a sing-along. Singing old, familiar songs — "Happy Birthday," classic hymns if they're religious — can bring back memories and is a skill that often remains even if speech is difficult.
5. Order a jigsaw puzzle — of your family
Mail-order companies specialize in custom puzzles from photographs or perhaps your child's artwork.
If your care recipient is a puzzle lover, you can have a puzzle delivered that contains 2,000 or more pieces. But also available are those with as few as 15 pieces, which might work well for people with dementia or less dexterity.
While you're at it, order a coffee mug with the favorite family photo, too.
6. Play a board game
Think about the games your family loved growing up, such as Clue, Monopoly, Life, Scrabble or Sorry, or if you have young kids, children's classics such as Candyland or Chutes and Ladders. Familiarity with the rules is important.
Backgammon, bingo and chess also will work if you've played those in the past and both sides know the lingo of the game. Make sure identical game boards are set up at your house and your loved one's home. You and your family then can play the game over the telephone, talking about how the dice landed and what moves your game piece is making.
A cellphone set on speaker will work well for this because games sometimes take hours. A video call also will add dimension but isn't necessary if everyone commits to narrating their actions.
7. Assemble a hobby box
This is the time to find a nice box at a craft store, perhaps decorate it and fill it with items that your loved ones can come back to again and again.
Put in items that will work with their existing hobbies or ask what they've always wanted to try. Think crossword puzzle books for those who like a brain challenge, paints and suitable paper for those who have been artistic in the craft room, squishy balls and miniature Slinkys or other toys for those with a silly streak, yarn and hooks for crocheters.
You can rest assured that maintaining the health, wellness, and safety of our residents remains our uninterrupted number one priority. We want you to know that we are here to help. Contact Manor Lake Assisted Living and Memory Care in Gainesville anytime with questions and/or concerns.